Description
Himalayan Musaafir & Trekatribe presents Musaafir Tribe Festival-2018. On the eve of Christmas, come to celebrate Wellness, Music, Nature and Adventure at Kareri Village, Dharamshala. Whether you are a nature lover, spiritual, musicophile, fitness freak or a photographer, this event has something for everyone. This event will take place in Kareri village (1850 m), 30 km from Dharamshala. This unexplored place offers an awesome view of the majestic Dhauladhar range.
This event is all about good vibes, peace of mind and a wilderness escape. Experience Adventure and connect with yourself. This event is a social gathering of a lively crowd.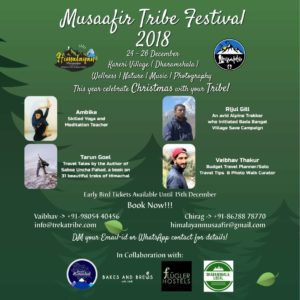 Highlights of the Festival:
This year celebrate Christmas with your Tribe!
1. Meditation & Yoga Sessions
2. Photo Walk
3. Cleanliness Drive
4. Live Music & Jamming Sessions
5. Camping, Bonfire & Local cuisine
6. Travel Workshop
7. Conversations & Stories
8. Night Sky Lantern Show
Kareri Village Festival Campsite