School Shoes Donation Drive at Grahan Village (HP)
"It is not conducive to the well-being of society that every member uses all his talents, only not for personal aggrandizement but for the good of all? We do not want to produce a dead equality where every person becomes or is rendered incapable of using his ability to the utmost possible extent. Such a society must ultimately perish."
- Mohandas Karamchand Gandhi.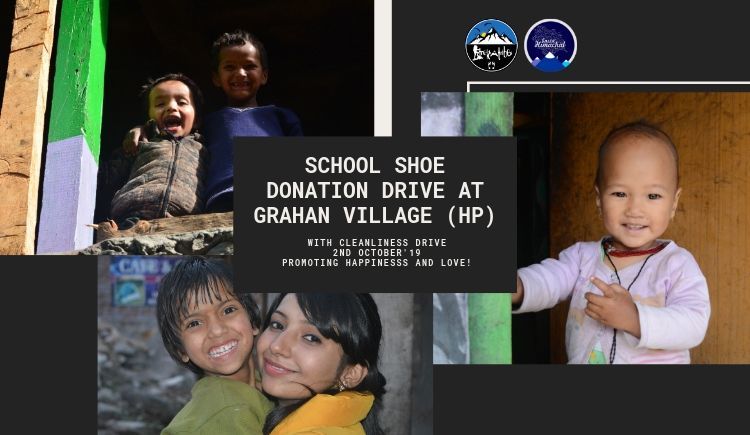 When passionate travellers and trekkers like us go through the far-reaching places in the Himalayas, we realise the essence of life. A vacation for some might mean sitting in a cafe and ordering the most expensive dish but at Trekatribe, we hope to make a difference- whether small or big- with each time we travel. Having hiked through some of the remotest villages in Himachal Pradesh and seen the zest for life of the people there in spite of the difficulties they face in their day to day lives, we decided it was time to give back. This has been our forever mission- to bring happiness in the lives of our mountain tribes!
On the occasion of Gandhi Jayanti, in line with Gandhi's philosophies, Trekatribe is glad to announce a short trek to Grahan village in the beloved Parvati Valley for a clean-up drive of the village, as well as a shoe donation drive to the children in the village. Arriving in Grahan is a tranquil sight with its wooden houses, lush greenery, and pure mountain air. The villagers are simple and hospitable and the food is freshly made and delicious. While hiking to Grahan one will pass through the forest with huge pine trees and the sound of bees and insects with the mighty Grahan River flowing in full force along the valley. The hike also involves crossing a few rickety wooden bridges, making this trek not only socially and environmentally responsible but also spiritually wholesome.
Grahan has only 60 houses and a population of around 400 people including 97 students from 3 to 15 years old. The houses are over 250 years old, and the only means of reaching this village is on foot. The village has no cellular network, no ATM and no hope of a road since it falls under the state forest area, making commutation immensely difficult for villagers in times of emergency. Grahan village is a 10 km trek from Kasol town and after the primary school in the village, children have to go Kasol every day to continue their studies. So, a good quality shoe will make their daily journey easy and comfortable. We are thankful to the local teacher of the village Mr. Khemraj for providing us with the useful insights to carry out this drive.
Join Trek A Tribe on Gandhi Jayanti for a cleanliness and shoes donation drive. We will clean the beautiful Grahan village and donate shoes to the 97 students of the village between 3-15 age groups.
When: 2nd October 2019
Where: Grahan Village, Kasol, Himachal Pradesh
Time: 11 am onwards
Starting Point: Kasol on 1st October'19
*No Registration Fee
We will also aware the children and villagers about climate change and the need for sustainable tourism and how to avoid plastic use.
For this event, we require volunteers for the cleanliness drive or donation in cash or kind.
Let us do our bit by giving back to the hills while meeting like-minded people and walking through the natural bounty of Mother Earth!
You can donate and bring more happiness and smiles. More money would mean the children of the neighbouring Thunja village are also included to be a part of this shoe donation drive. Money is also required to carry out an efficient cleanliness drive (Grahan is 10 km trek from the road). Also, the donation of books, stationery items, clothes, etc. would be appreciated. You can directly send the essential items from online stores like Amazon to the following address:
Vaibhav Thakur,
C-22, M.L.A Quarters, Cart Road,
Shimla-171005 (Himachal Pradesh)
+91-9805440456
Register yourself today and be a part of the change!