₹4,500.00
Route: Delhi – Mcleodganj – Galu Temple -Triund – Mcleodganj – Delhi.
Difficulty Level:  Easy.
Altitude– 2,850 m (9,350.4 ft).
Trek Length: 9 km (one way).
Duration: 2 Nights/3 Days.
Batch Size– 15
Price inclusive of Camping, Transport, Food & GST.
Description
Triund Trek – After Kheerganga in Parvati Valley, Triund is perhaps the most popular trek for beginner level trekkers, and rightfully so. Set amidst the Dhauladhars of the Kangra Valley, this trek starts from the bustling town of McLeod Ganj in Himachal Pradesh.
Trek Analysis:
The route is well marked with ample rest spots. All the rest stops have cafes along the way that make sure that your first trek is nothing short of comfortable. If you decide to trek during the spring, you can also witness the flaming red rhododendron flowers locally known as buransh in full bloom. The locals will climb up these trees and pluck as many as flowers as possible to prepare jams, chutneys and juices out of these. These flowers prevent the body from heat strokes. They also make for the perfect preparations for the upcoming summer months.
Not only is this trek super easy, but is also one of the most beautiful treks in Himachal Pradesh. The Mun Peak- the highest peak of Lower Dhauladhar Ranges- keeps you company through most of the trail. On one side is a panoramic view of the entire valley, with the city of Dharamshala distinctly visible, including the beautiful Dharamshala Cricket Stadium, and on the other are trees lined up one after the other including oak, pine, deodar and rhododendron. From the top of the Triund ridge, a 360 degrees view of the majestic Dhalaudhar Mountains is visible. It is so close that you could almost touch them! The colours of the sky during sunrise and sunset are particularly breathtaking. There's nothing like watching the sun come up from behind the magnificent Mun Peak!
Triund is, needless to say, one of the easiest, and best experiences one can have in the trekking field in India. Also, one of the best beginner treks in India. A perfect weekend getaway from Delhi.
Triund Trek Map
ITINERARY
Day 1 (15 Nov) – Hop on to the evening luxury AC Volvo bus from Delhi, and give yourself a good sleep in the comfortable ride to the hills, as you prepare yourself for one of the best adventures of your life ahead!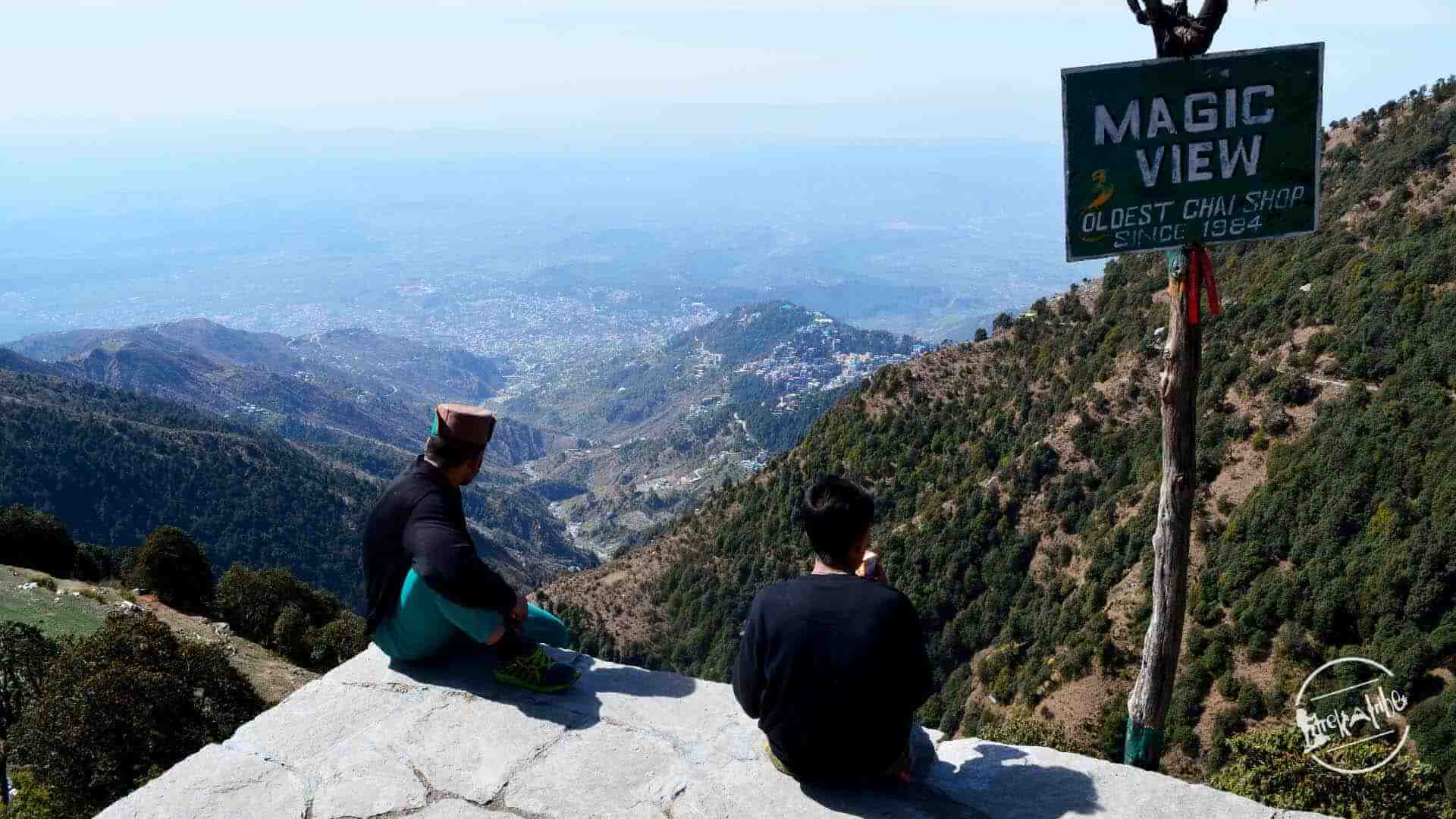 Day 2 (16 Nov) – After reaching McLeod Ganj early in the morning, we start for the trek. The starting point is McLeod Ganj, which is the home of Dalai Lama, and from there we begin our uphill journey (9 km).  The entire trek uphill will take about 4-5 hours. The climb is very easy with a few steep ascents here and there, with magnificent views giving you company throughout! After reaching Triund top, we pitch our tents and get ready for some piping hot dinner to warm us against the strong evening winds at the ridge. Go to your camp bed with a happy tummy, and a happier heart, surrounded by such picturesque vistas.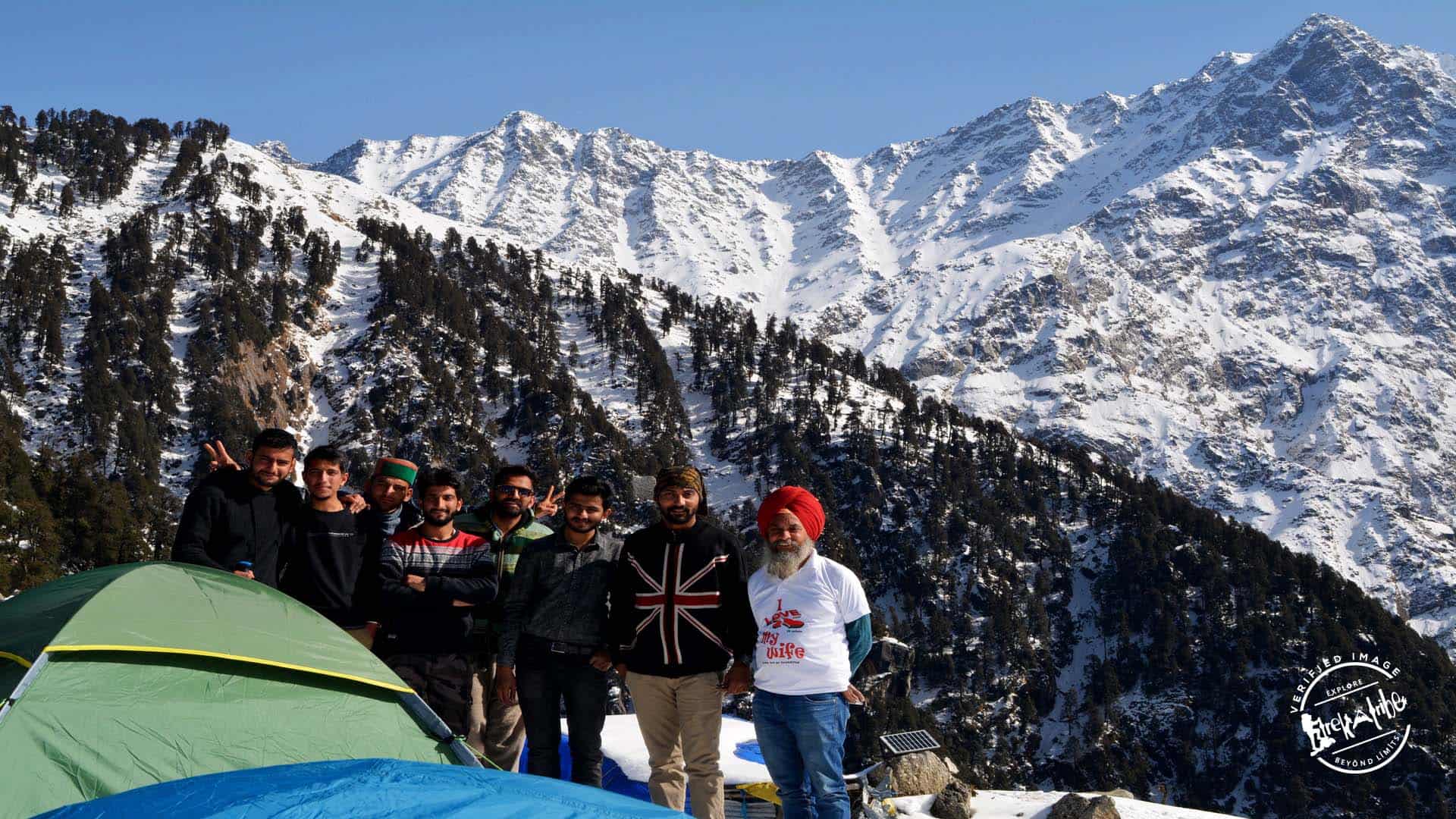 Day 3 (17 Nov) – We wake up early morning to catch one of the best sunrises you will ever see, with the sun rays spilling over the snow-clad Dhauladhar Mountains. After breakfast, we begin our descent which will be much easier and faster than the climb up. Upon reaching McLeod Ganj, you are free to explore the city and its bustling markets selling beautiful trinkets like healing crystal jewelry, colorful yak wool apparels and much more! Board the evening Volvo bus to Delhi with a happy heart full of warm memories from this short but utterly eventful getaway!
Inclusions:
Stay – Tents (sharing basis); Sleeping bags and carry mats.
Meals– Vegetarian Nutritious and Tasty Meals during the Trek. Evening Tea.
Breakfast on Day 3
Dinner on Day
Experienced trek leaders and cook.
Transport from Delhi to Mcleodganj and back to Delhi in Volvo Bus.
First-Aid Kit.
Other Guidance
Climbers are reminded that there is a 15kg limit on personal luggage for all climbs.
Cameras, whether video or film, needed to be protected against the severe cold either in a warm pouch or the interior pockets of your clothing. Do not keep your camera in your backpack at higher elevations.
We do not provide donkeys or porters to carry luggage.
No insurance is provided during the trek.
When between camps, please carry your daily personal rubbish to the next camp.
Remember – "Take nothing but photographs, leave nothing but footprints". So, keep the mountains clean and green.
Aspirins and Paracetamols are highly recommended for headaches and because they also thin the blood that will help improving circulation & oxygen delivery to the body.  Strong painkillers are not recommended as they can suppress respiration.
Personal expense of any kind will not be entertained.
Personal Equipment Required:
 A good sturdy pair of shoes and a backpack with plastic or water-proof lining.
Comfortable, lightweight clothing.
Sunglasses or goggles.
A woollen hat for warmth.
Pocket knife.
Torch.
Scarf or bandana.
Lip balm.
Ear plugs. (Optional)
Spare contact lenses or glasses.
Thermal innerwear.
Extra polythene bags.
A whistle.
Reading materials, Games, Cards. (Optional)
Towel especially lightweight quick-dry type.
Track pants with more pockets. Carry around 2 pants. Avoid jeans.
Waterproof jackets and gloves.
A raincoat since the weather can be unpredictable sometimes. (Optional)
Identification proof like Passport, Driving license, Aadhar card etc.
1 Passport size photograph.
REFUND & CANCELLATION POLICY
Cancellation of booking of tour 31 days or more before the date of Departure will result in 20% deduction of the cost of the tour.
Cancellation of booking of tour 21-30 days before the date of Departure will result in 40% deduction of the cost of the tour.
Cancellation of booking of tour 11-20 days before the date of Departure will result in 60% deduction of the cost of the tour.
Cancellation of booking of tour 6-10 days before the date of Departure will result in 80% deduction of the cost of the tour.
Cancellation of booking of tour 1-5 days before the date of Departure will result in 100% deduction of the cost of the tour.